I decided to grow the 7 Pod Brain Strain hot pepper in a homemade DWC bucket. I will update this post with progress in the coming weeks and months.
I got the seeds this past summer from user "Pepper Ridge Farm" at the thehotpepper.com. I have not tasted one myself yet but it's supposed to be hot – as in as hot if not hotter than the current Guinness record holding Naga Jolokia aka Bhut Jolokia aka Ghost Pepper.
I'm not one to baby my seeds to get them to sprout and the brain strain seed I used was no exception. After soaking the rock wool overnight I inserted a single brain strain seed and immediately put the rock wool and seed into the 3 inch basket + hydrotron and into the 5 gallon DWC. That was November 6, 2010.
Here's what popped up on December 8th 2010: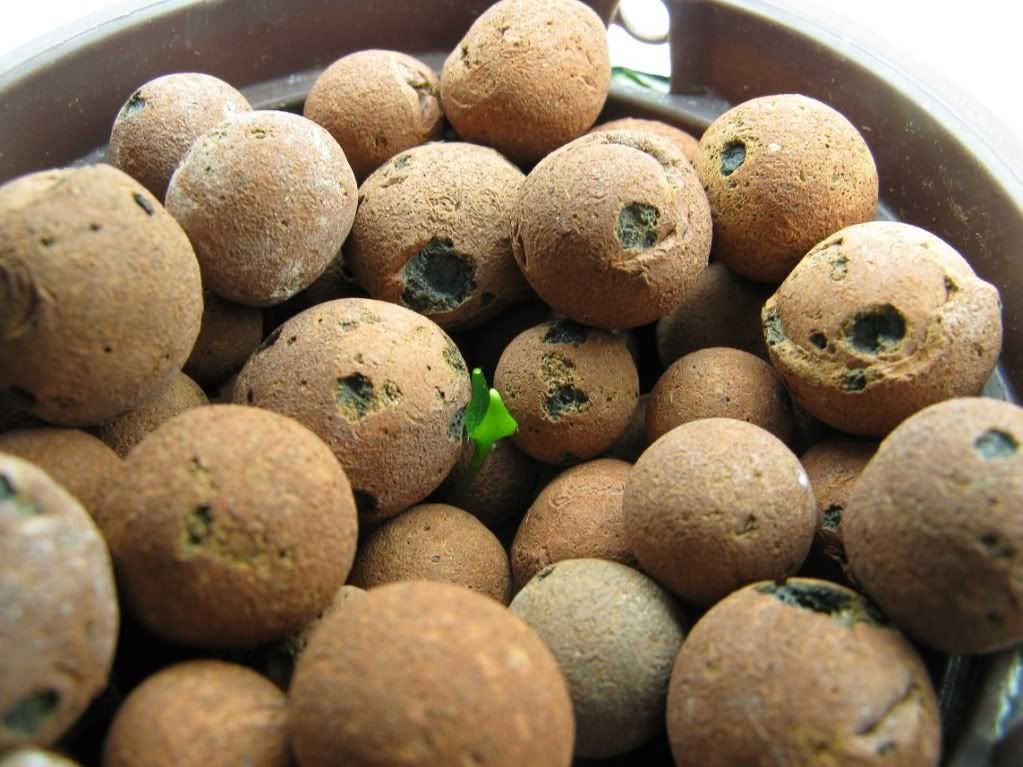 Still just in water (no nutes) here's what it looked like 10 days later on December 18th 2010:
Still just enjoying ph adjusted tap water here's where the brain strain sprout is on December 28th:
Using the gallery on this site for the photos so they will be a in a different size from now on.
Still in the same PH adjusted water, not nutes. Here's how the 7 pod brain strain looks on Jan 2, 2011
Dumped the water and added some nutrients today. Since I dropped the seed in the rock wool in Novemeber this 7 pod has been in just water. Here's how it looks on January 8, 2011:
roots –
Here's the January 18, 2011 7 pod brain strain update. Seems to like the nutes I gave it.
January 28, 2011 update. Growth seems to have slowed and have lost some leaves. Going to swap out the water/nutes this weekend and see if that helps. Not sure what the problem is. PH is in the right range. Nutes are diluted.
February 12, 2011 update. Lots of shoots growing under the min leaves. Roots have been growing like crazy and noticed small buds starting to form a few days ago. Will probably pinch considering the size of the plant. Under just about the same conditions the brain strain definitely grows a lot slower than the chocolate bhut jolokias i am growing.
March 5 2011 Update-
I decided to transplant the 7 pod brain strain from it's dwc home to a pot with dirt to get it ready to move outside in the spring. I followed the same process a few weeks ago when i transplanted a chocolate bhut jolokia from a dwc bucket to dirt and that plant is doing very well. It was getting too crowded under my 2 foot grow light and since the chocolate bhut jolokia i am growing is so much taller it was hard to keep the light on both of them.
Here's how the brain strain looked. Short and stocky and all the new growth was coming from the bottom portion of the plant.

The roots –

The roots cut back –

The 7 pod brain strain laying on a paper towel –

Brain strain in it's new home –

March 27, 2011 Update
Still a slow grower but the Brain Strain seems to be enjoying it's new dirt pot home: